Africa A+ Summer Conferences January 2018
Africa A+ facilitated two summer conferences in Cape Town from 8-10th January 2018. The goal was to enable schools to nurture creativity, problem-solving, critical thinking, collaboration, and an entrepreneurial mindset  in children regardless of the context the school finds itself in. The conferences were transformative; one participant wrote "I'm used to being told what to do … I liked the way I was taught to think critically and be creative".
The participants extended  their thinking skills, deepened their understanding of the A+ approach, got in touch with their own creativity, and worked together mapping out joyful learning and teaching experiences for Term 1.
The Year 2 Conference (9 – 10th January 2018) was attended by 2 principals and 21 educators from Chameleon Campus and iThemba Pre-primary. The two schools are beginning their third year of A+ mentoring.  The Year 1 Conference was facilitated by Shanaaz Abrahams (ECCE) and Karen Stewart (visual arts). Apprentice A+ facilitators, Augusta Brandt and Ronnie Simons attended as process observers; their role was to see and experience A+ facilitation and to support the facilitation team.
The Year 1 Conference (8 – 10th January 2018) was attended by 3 principals and 24 educators from Rainbow ECD Centre, Fish Hoek Pre-primary, and Gerard's Educare. The three schools are starting their second year of A+ mentoring. The Year 1 Conference was facilitated by Kauthar Ebrahim (ECCE) and Sue Kaplan (visual arts). Apprentice A+ facilitators, Rafeekah Patel, Charnell King and Vuyiswa Rapoyiya attended as process observers.
Miriam Schiff (conference coordinator), Anya Morris (project director) and Richard Kilpert (workshop facilitator) also participated in the two summer conferences. Linda Biersteker (ECD researcher) and Peter Williams (Children's Campaign Trust) visited the conferences.
Six elective workshops were facilitated on the 9th January:
It's Simple but is is Science  – the participants discovered the world of simple scientific concepts that gets Grade R children thinking and doing like 'real scientists'
Shake, Rattle and Roll – the participants experienced how to introduce percussion instruments to children using song, dance and rhythm. The participants made instruments from waste materials
Blocks to Building –  the participants used found materials in construction as a joyful way of teaching children
From Mess to Mathematics – the participants discovered how to turn a messy kitchen drawer into a Grade R data handling lesson
Movin' and Groovin' – the participants used a parachute, song , instruments and dance to teach children cooperative skills
Changing Shape –  the participants used stencils to create mathematics activities that teach children about shape, space and pattern
The facilitation teams started planning the 2018 Year 1 and Year 2 Summer Conferences on the 5th October 2017. Although Oklahoma A+ supported the planning, the Africa A+ team prepared and facilitated the two conferences on their own. Using Skype, Sandy Kent, the OKA+ executive director, was able to view the conference activities and participate in the daily team meetings. The two conferences are the final step in the three year mentoring of Africa A+ by Oklahoma A+ Schools.
The reflections and feedback indicated that the two conferences were deeply inspiring.  The participants wrote:
"Creativity and art can come from a rubbish heap"
"Junk can be used for different maths activities"
"Always think outside the box and find new and creative ways to take on tasks"
"It opened my heart and eyes and now I can show and give back …"
"You made me believe that I can do it"
"I am a creative person!"
"I will treasure what I have learned at A+ for the past 3 years"
Thank you to all who planned, supported, prepared and participated in the Year 1 and Year conferences: the team of Africa A+ facilitators, Sandy Kent from Oklahoma A+ Schools, the Standard Bank, the Department of Economic Development and Tourism, ELRU, and the staff of iThemba Pre-primary, Rainbow ECD Centre, Fish Hoek Pre-primary, Gerard's Educare and Chameleon Campus.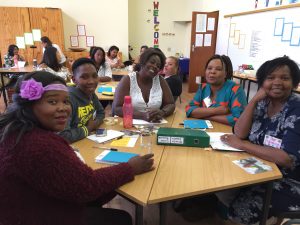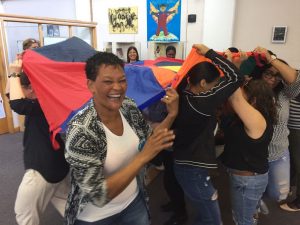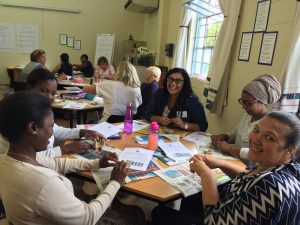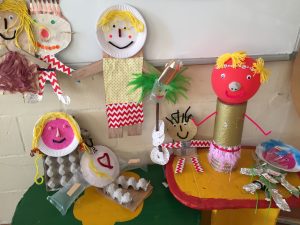 .